The Cuban tree frog took on an unnatural glow when it swallowed an entire fairy light in a botched bid to catch an insect.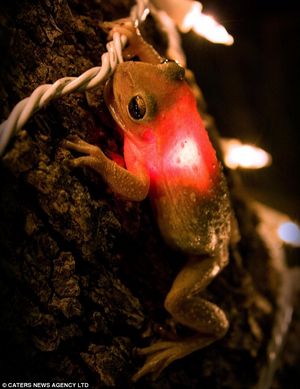 The Cuban tree frog with an unnatural glow
The unlucky amphibian had been hunting in the back garden of wildlife photographer James Snyder when it made a bid for the snack.

James, who lives in Palm Beach, Florida, had decorated his back yard with colourful lights after noticing that frogs had worked out lights attracted bugs.

But one night he discovered that one of the little beasts had bitten off far more than it could chew.

James, 29, said: 'A bug landed on the bulb and when the frog went for it he got a little bit extra.